Group Therapy with Adult
Children of Alcoholics:
Treatment Techniques
and Countertransference
Considerations
For all therapists who work with adult children of alcoholics (ACOAs), this comprehensive book provides expert guidance in setting up and running a psychotherapy group. Successfully integrating theory and practice, Vannicelli surveys the current ACOA literature, explains the rationale for group therapy, describes how to set up a group, and suggests specific group leader techniques Seasoned individual and group psychotherapists as well as paraprofessional counselors will value the considerable insight into adult-child issues — invaluable, as well, for professionals working on family-of-origin issues with other patient populations."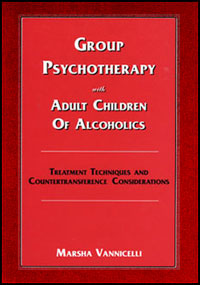 Endorsements & reviews:
"With the voice of a seasoned and sensitive group therapist, [Dr. Vannicelli] takes the reader along a clinical journey which illuminates and demystifies the task of leading a psychotherapy group with an ACOA membership…a valuable and sensible contribution to the field." International Journal of
Group Psychotherapy
"Excellent…The book is long overdue. It is an essential for mental health professionals working with groups and ACOAs."
Recovery Times
"This is an excellent book! It is a 'how to' hands on approach to Adult Children of Alcoholics treatment, which walks the group therapist through the process of patient selection, critical issues, reoccurring themes, and the termination process."
Social Work with Groups
"A volume that can be recommended strongly as both reference and teaching resource."
Readings
"Marsha Vannicelli does a fine job in breaking down the complexities and pitfalls of group psychotherapy and, in particular, the countertransference issues…The book is well written… does an excellent job of describing psychodynamic issues and problems, as well as countertransference issues in doing group therapy with this patient population."
American Journal
of Psychotherapy
"A valuable clinical resource… Vannicelli deserves praise for creating this comprehensive integration of clinical experience and research perspectives on issues related to conducting group therapy with ACOAs."
Contemporary Psychology
Removing the Roadblocks:
Group Psychotherapy with
Substance Abusers
and Family Members.
Based on the author's many years of experience supervising group therapists, this quintessentially practical book is designed to help practitioners think through and formulate appropriate strategies in their clinical work with substance abusers and their family members. Utilizing many clinical examples, and providing explanations throughout for her interventions, Vannicelli pays special attention to the therapeutic stance — where the clinician positions him or herself in relation to the patient, and why; and how various strategies and techniques maximize the patient's opportunity for therapeutic growth. A hallmark of Dr. Vannicelli's approach, richly illustrated in this work, is her sensitivity to countertransference and the ways it can be used productively in clinical practice.
Endorsements & reviews:
"An important contribution to the field. Thoughtfully discusses the practice of group psychotherapy with substance abuse patients and describes a comprehensive and eminently practical approach to clinical work. I know of no practitioner in the field who would not benefit from this book."
Irvin Yalom, M.D.
"This is a splendid book about a very complicated subject. Throughout the pages, the author demonstrates her competence, talent, breadth of knowledge and rich experience, sharing with the reader in a compelling and personal style that makes reading enjoyable as well as thought-provoking. Situations from her own extensive practice are presented so vividly and understandably that I found myself reading on eagerly to find out how Vannicelli would bring the problem to some kind of therapeutic resolution"
Social Work with Groups
"Not only do the readers get the opportunity to witness how a skilled practitioner works in group; they are also privy to a demonstration of how an experienced supervisor's mind works in organizing strategies that will help move through or around common roadblocks or resistances to treatment… This is an excellent book."
International Journal of
Group Psychotherapy
"Vannicelli's…unique ability to…transmit..to both patients and colleagues in a clear and nonpatronizing manner has been a hallmark of her approach over the years…"
Group: The Journal of the Eastern
Group Psychotherapy Society
"The author demonstrates a talent for combining theoretical and clinical material in a style that is lucid and easily readable. The reader can sense immediately that this is a book written by a seasoned clinician… Her trouble-shooting orientation coupled with creative solutions to psychotherapeutic roadblocks makes this book a valuable addition to the clinical literature in this field."
The American Journal
on Addictions
"This book provides a wealth of practical material for therapists…Regardless of theoretical orientation, readers will benefit from the author's considerable clinical experience in conducting group therapy with this client population."
G. Alan Marlatt, Ph.D.
"…an invaluable clinical tool. Geared to mental health professionals at all levels…experienced practitioners–as well as those involved in course work in social work, nursing, psychology, and other disciplines"
Families in Society